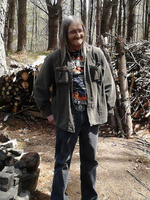 James Edward "Bake" Baker
James E. Baker
Queensbury, NY - James E. "Bake" Baker, age 57, passed away peacefully at Glens Falls Hospital on December 22, 2017; after struggling with many illnesses.
Bake was born on January 23, 1960 in Granville the son of Clarence & Helen (Burch) Baker.
Jim loved fishing, hunting, being outdoors and being amongst his many friends. He always loved a good joke and could be quite the prankster himself! He was loved by many and will be greatly missed.
James is preceded in death by both his parents, Clarence and Helen Baker, his sister Christine Smith and Debbie Baker.
He is survived by a son Matt Baker and his wife Theresa of Middle Granville, NY; a daughter Stacy Stoodley and her husband Scott of Granville, NY; granddaughter Jasmine and Ariana Baker and grandsons Darren Baker; Scott, Ethan and Troy Stoodley; a sister, Linda Anderson and her husband Matt of Hebron, NY; a brother Clarence Baker of Orange City, Florida; two nieces, Heather Holcomb and Heidi Johnson; two nephews, Frank and Mike Smith; many great nieces and nephews, cousins, Aunts, Uncles and beloved friends.
Calling hours will be held at the Robert M King Funeral Home, 23 Church St., Granville, NY on December 30, 2017 from 4-6pm with a funeral service immediately following at 6 PM/
In Lieu of flowers, please make donations to: Hartford Fish & Game Club , State R oute 196, Hartford, NY 12838 or to a charity of one's choosing.
Online condolences may be made at www.robertmkingfuneralhome.com.