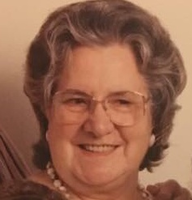 Jennie C. Holcomb
Jennie Holcomb
Granville, NY – Jennie C. Holcomb, age 95, passed away at Glens Falls Hospital on December 26, 2017.
Jennie was born in Granville on March 26, 1922, the daughter of Roy J. and Alta (Moore) Brown.
Jennie worked for 21 years at Sherwood Medical in Argyle. She loved knitting, crocheting, sewing and crafting. Her true love in life, however, was her children and grandchildren.
She was predeceased her husband George Holcomb, and brothers Edward, William, Henry, Ted and Roy "Bud" Brown and two sisters Coretta Aldous and Shirley Gilmore. Survivors are her children: George of Granville, Richard (Sandy) of Hartford, Jeffrey (Judy) of Poultney, Lucy Novinger of California and Alta Ward of Florida. She was blessed with 12 grandchildren and many great grandchildren as well as nieces and nephews. She is survived by two brothers Lawrence (Shirley) of Poultney and Harold (Linda) of Florida and a sister Beverly Mead of Granville.
A funeral service will be held on Wednesday, January 3, 2018 at 7 PM at the Robert M King Funeral Home, 23 Church Street, Granville. Friends may call from 5 PM until the time of the service.
In lieu of flowers memorial contributions may be made to the charity of one's choice.