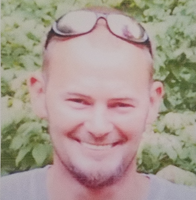 Travis Charles Mason
Travis C. Mason
Wells, VT – Travis Charles Mason, age 32, passed away on January 11, 2018 at Rutland Regional Medical Center, following a long illness.
Travis was born on January 15, 1985 in Rutland, VT the son of Keith and Connie (Martell) Mason.
Travis was a fortunate individual to have his job also be his passion. He worked on a dairy farm with Paul Quesnel and currently with Ken Thomas at Red Top Dairy in Middle Granville, where he not only loved his job, but got to work with two men he considered his best friends.
In his youth, he was a member of the Wooly Ones 4H group. The focus of the group was sheep and showing sheep. He was very successful at this. As an adult he continued this endeavor by becoming a judge for sheep shows.
He was an avid hunter and fisherman. He shared these hobbies with his children, showing them nature, adventure and love in their mutual time spent together.
Travis will be remembered as the selfless person that he was. He always put others needs ahead of his own. His thoughtful, kind and considerate nature made him well liked by all who met him.
Travis is predeceased by his maternal grandparents Fred and Roberta Martell and uncles Fred Jr. and Marvin Martell. He is survived by his parents Connie Mason and Keith Mason (Marlee). Left behind to miss him immeasurably is his significant other Jillian King and their children Alivia A. and Calin C. Mason. He is also survived by his siblings; Kendra Mason, Jennifer Abrahamovich (Kyle), Kristan Mason, Eliza Snowden (Jesse), Katherine Mihevc-Edwards (Brian) and Luke Mihevc(Jessie) in addition to his paternal grandparents Charles and Phyllis Mason, and several nieces, nephews, aunts, uncles and cousins.
A memorial service will be held on Thursday, January 18, 2018 at the Wells Methodist Church at 11 AM with the Rev. David Adams presiding.
Memorial contributions may be made to his children: Alivia and Calin Mason in care of Jillian King, 60 County Route 17A, Comstock, NY 12821.
Funeral arrangements were entrusted to the Robert M King Funeral Home, 23 Church St., Granville, NY. Online condolences may be made at robertmkingfuneralhome.com.