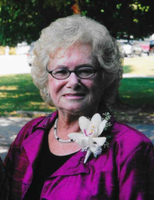 Sally Ann Roussil
Wells, Vermont
Sally Ann Roussil, age 87, passed away peacefully at her home on Saturday January 6, 2018.
Sally was born on January 5, 1931 at the family home in Wells, Vermont, one of the twin daughters of Samuel A. Jones and Pauline (Fitzpatrick) Jones.
She grew up in Wells attending the local school and was a 1949 graduate of Granville High School in Granville, New York.
On November 7, 1953, she married Eugene Roussil, her dance partner for life. They spent their time between their home in Rutland and their summer home at Lake St. Catherine in Wells, where Sally was the owner and manager of Lakes End Court for 25 years.
Sally and Gene had a very active social life when living in Rutland for over 50 years as Gene was affiliated with numerous organizations, especially the Elks Club. They could always be seen as elegant dance partners. She was also an avid golfer and enjoyed many outings with her husband and the girls in Vermont.
In later years, they spent winters in Deltona, FL. Sally and Gene never had children of their own, so they shared Sally's twin sister Betty's children, James F. Sheldon Sr., F. Ralph Sheldon III, Lynn Sheldon and Dale Bardin. They were always happy to host the kids and their families when they came to Florida for a winter visit. This would typically include trips to all the theme parks, the Kennedy Space Center, the Daytona 500 and of course the beaches.
Sally was always a big part of family gatherings. She relished the holidays going to her twin sister, Betty's, and Gene's sister's homes, the Calvin's and the Garafano's.
Sally and Gene loved to travel; they traveled to Hawaii, Ireland and England to name a few and were lucky to win a trip to Paris, France. On occasion Sally's twin sister would accompany them.
After Sally's husband passed away, she moved back to Wells to be with her twin Betty.
Sally was predeceased by her husband Eugene, her parents, a brother Samuel Jones Jr., four sisters, Beverly Oakman, Wilhelmina Jones, Germaine Pauquette, and Betty Sheldon, a nephew James F. Sheldon Sr. Surviving is her sister Joan Pauquette (Richard) and her nieces and nephews.
Memorial contributions can be made to Granville Rescue Squad, 64 E. Potter Ave., Granville, NY 12832 or to the St. Mary's Church.
A Mass will be celebrated on Saturday January 20, 2018 at 11am at St. Mary's Roman Catholic Church, 23 Bulkley Ave., Granville, NY with the Rev. Joseph Arockiasamy presiding.
Reception to follow at The Barn Restaurant in Pawlet, Vt.