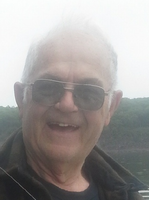 Robert Arnold Corey
Robert A. Corey
Pawlet, VT – Robert A. Corey, age 77, passed away unexpectedly on Thursday, February 22, 2018 on a beautiful winter day.
Bob was born on February 19, 1941 in Danby, VT the son of the late John and Edna (Ackley) Corey. He was a graduate of Wallingford High School.
Following graduation, Bob managed the Ross family farm in Pawlet. In 1979 he went to work at Hand Chevrolet in Manchester as a mechanic and in 1985 at General Electric in Rutland, also as a mechanic. The greasier the job…the better was always Bob's philosophy. A trait he handed down to his son and grandson.
Bob found deep gratification in his love of gardening. He spent hours cultivating his beloved vegetable garden. He also was a wonderful woodworker. Bob loved the outdoors. He anticipated hunting season with great pleasure. His grandson admired how he could sit on watch for 10 hours straight without moving; even if some of that may have involved a nap. He also never succumbed to the use of a four-wheeler in his advanced years. He was walking into the woods and that was that. He also enjoyed fishing and went on trips with his son and grandson, frequently with the "big" catch of the day and rarely with stories of the ones that got away.
Bob married the love of his life Mildred Ross in 1961. Together they raised three wonderful children and in turn, enjoyed the arrival of grandchildren and great grandchildren. Bob was a kind, gentle, man and his heart was filled with pride and love for his family. He and Millie shared 57 years of love and memories.
Bob was predeceased by his parents, two daughters: Jennifer in 1988 and Andrea in1993, seven siblings: John and Charles Corey, Violet Stone, Alice Pratt Read, Barbara Harrington, Margaret Gardner and Betty Austin. He will be loved and missed by his wife Millie and his son Leon (Dawn), his grandchildren Katelyn and Benjamin Corey, and great grandchildren Rowan and Silas Trigg, as well as his sister Sylvia Cramer and many nieces and nephews.
A funeral service will be held on Tuesday, February 27, 2018 at 11AM at the South Granville Congregational Church with Rev. Robert Flower presiding. Friends may call on Monday, February 26, 2018 at the Robert M King Funeral Home, 23 Church St., Granville, NY from 2-4 and 6-8 PM. Burial will be at a later date.
Online condolences may be made at www.robertmkingfuneralhome.com.