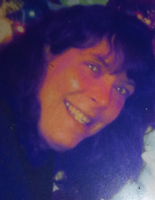 Dawn Doran
Dawn Marie (Keys) Doran
Salem, NY – Dawn Marie Doran, age 48, passed away at Glens Falls Hospital on February 28, 2018.
Dawn was born on May 4, 1969 in Cambridge, New York the daughter of David and Dianne (Fifield) Keys.
Dawn loved being with friends and family, and when BBQ's or playing pitch was part of the gathering it was even better. She was a wonderful cook, especially soups. She could create a great pot of soup with next to nothing. Dawn was an avid Denver Broncos fan. Her kind and gentle soul made her a lover of dogs and cats, evidenced by the many that were a part of her life. Some of her best animal friends were Peanut, Dixie, Lucky, Sprocket, Footprints and Rita.
She married John Doran. He met her when she was outside playing with her very special granddaughter "Mar Mar". While passing by, John began running around the yard with Mar Mar and that was the beginning of a loving relationship with Dawn. In addition to each other's company, they enjoyed long rides through the countryside together.
Dawn is survived by her paternal grandmother Margaret Keys, her parents David and Dianne. She will be deeply missed by her husband John who survives her and her son Randy Bud Linendoll of Salem. She is survived by two brothers: David F. Keys Jr. of Whitehall and Daryl J. Keys (Ann) of Maryland. She was blessed with two granddaughters Marley A. Linendoll and Jayden Linendoll, in addition to her wonderful stepchildren and many aunts, uncles and cousins.
Friends may call on Tuesday, March 6 from 11 AM – 1 PM at the Robert M King Funeral Home, 23 Church St., Granville, NY. Burial will follow at Evergreen Cemetery in Salem.
Online condolences may be made at www.robertmkingfuneralhome.com.