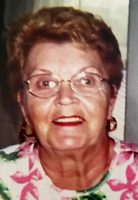 Anneliese Ursula Plisko
Anneliese U. Plisko
Granville, NY – Anneliese Ursula Plisko, age 76, passed away at her home following a long illness.
Anneliese was born in Hannover, Germany the daughter of Heine and Hildagard (Kiene) Reuter.
She married John Plisko in 1966.
She enjoyed playing POGO on the computer and going to Bingo. She was fond of all animals. Her kind heart also included donating faithfully to child-related charities. She enjoyed their home and gardens very much. She would go out to "have a ciggy" and wander around the yard looking at the flowers, birds and little creatures while enjoying nature.
Anneliese is survived by her husband of 51 years, John Plisko, Sr. She is also survived by two sons: John Jr (Susan) and their children Anthony, Dakota, Chanel, Elijah and Christian and Michael and his children Devin and Briauna, all of Clover, South Carolina.
She will be laid to rest at the Gerald B. H. Solomon Saratoga National Cemetery in Schuylerville, NY.
Arrangements were entrusted to the Robert M King Funeral Home, Granville, NY.