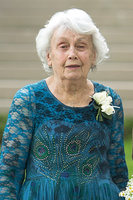 June A. Clayton
Granville, NY - June Ann Clayton, 86, lifelong resident of Granville, entered into eternal peace on Thursday morning, March 22, 2018, at Rutland Regional Medical Center, after an extended illness.
Born June 8, 1931, in Granville, daughter of the late Lemuel and Helen (Prevuznak) Jones. She was a 1948 graduate of Granville High School.
Our mother is now in the loving embrace of her late husband, Donald Roy Clayton whom she married on February 18, 1960, at the Christ's Presbyterian Church in Catskill, NY.
Her early working years were spent at the Granville Sentinel. She was a faithful member of the Peniel Presbyterian Church. June was devoted to her family, and cherished her family's many gatherings around the holidays or special occasions. She also enjoyed reading mystery novels, antiquing with her late husband and traveling to many vacation spots with her family.
Survivors include her daughter, Vicki (Larry) Bulman of South Glens Falls; son, Richard Clayton of Granville; and daughter, Kathi Clayton (Steve Ingalls) of North Clarendon; along with 8 loving grandchildren, Taylor (Daniel) Erkel and James Patrick Bulman, Nick Merola, Ashley and Morgan Clayton, Amanda Gould (Jeff Towle), Eric and Tyler Mason; 2 beautiful great-grandchildren, Aubrie Mason and Briden Towle; her brother-in-law, Gerald Clayton and his wife Suzanne; and several nieces, nephews and cousins.
Our family wishes to thank all of our friends and family who have shown us much kindness and support over the last few months. A special thank you to June's cousin, Jane Dudla, who made several visits a week as June's health rapidly declined this winter.
At June's request, there will be no calling hours.
A private memorial service and burial will be at the convenience of the family.
The family suggests that in lieu of flowers, remembrances take the form of donations to the Granville PBA, 51 Quaker St., Granville, NY 12832 or the Pember Library, 33 W. Main St., Granville, NY 12832 in memory of June A. Clayton.
Arrangements are under the direction of the Robert M King Funeral Home, 23 Church St., Granville, NY. Online condolences may be made at www.robertmkingfuneralhome.com.