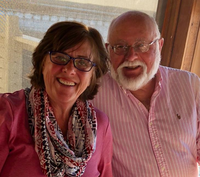 Daniel D. Boone
Granville, N.Y. - Daniel D. Boone, 75, passed away peacefully at his home on Monday, April 2, 2018.
He was born on August 31, 1942 in Granville, NY, the son of the late Daniel Kenneth Boone and Helen Beattie Boone of Wells, VT.
Dan's life was defined by his unique dedication to community service and love for family. Just this month he had 23 meetings scheduled in his planner for the various boards and organizations he served in.
Dan graduated from Granville High School in 1960. He attended UVM College in Burlington, VT and graduated with his bachelor's and master's degree. He was a member of the Lambda Iota fraternity and worked in the cafeteria and special collections as an undergraduate. He worked as an engineer for the State of Vermont for several summer internships and helped to build RT 4 from Fair Haven to Rutland.
Dan began his teaching career at the West Rutland School District for before taking a position with Argyle Central School in 1969 as a history teacher. He retired after 37 years of dedicated service to his students. He headed up the Canadian Studies, Humanities, and Student Government programs and mentored students to be active and engaged participants in the political process. He was Class Advisor to several classes, headed up the Ski Team and regularly organized student trips. He brought students, many who had never travelled outside the county, to Washington, DC; Montreal; Quebec; and various churches for a comparison religious studies program that he created. He believed that getting out of the classroom was crucial for learning. He also served as adjunct professor teaching evening classes at the Adirondack Community College.
After retiring, he was elected as Town Assessor for the Town of Granville, a position that he still held at the time of his death.
Dan and his loving wife, Cynthia (Cindy) Hammond Boone were united in marriage on November 21, 1969 at the Middle Granville Presbyterian Church and have celebrated 48 wonderful years together. Fridays were their Date Days, they would leave early in the morning and travel for different adventures each week. Sometimes texting their kids pictures for them to guess where they were.
Dan was a proud union activist in New York State United Teachers (NYSUT); planned and led trips for retirees, served on the TCT Board, Rails to Trails organization, Washington County Historical Society, Granville Snowmobile club, led an Eagle Scout program, was an active member of the Free & Accepted Masons, and served several years as Secretary of the Modern Woodman of America where he was an active member for 60 years.
His time on earth was truly an expression of the commitment that life is defined most by what you give, not what you receive.
Survivors include his wife, Cynthia H. Boone of Granville, his daughter; Tanya Boone and her husband Robert Callahan of Granville, his three sons; Daniel James Boone and his wife Brooke Larmie of Granville, Jeffrey Barrett Boone and his wife Hadley of Clifton Park, and Seth Hammond Boone and his wife Hayden of Saratoga Springs. He also leaves behind four grandchildren; Adam Callahan; Carson, Lincoln, and Madison Boone; his sister, Donah Beattie and her husband Conrad of Williamstown, VT and several sister & brother in-laws, nieces, nephews and cousins.
Services will be held at 2:00 pm on Friday, April 6th, at the Peniel Presbyterian Church, 4 Quaker Street, Granville, with Rev Jerry McKinney, pastor officiating. Burial will follow in the Wells Cemetery, Wells, VT. Following the services, the family invites everyone to continue the celebration of Dan's life at the Modern Woodman's Lodge in Wells.
Friends may call on the family on Thursday, April 5th, from 7 to 9 pm at the Robert M. King Funeral Home, 23 Church Street, Granville. The members of Morning Flower Lodge #71, F & AM will hold a Masonic Memorial Service at the Funeral Home on Thursday evening at 6:45 pm.
The family asks that in lieu of flowers, memorial contributions may be made to either the Pember Library and Museum of Natural History, 33 West Main Street, Granville, NY 12832 or to the Washington County Historical Society, PO Box 106, Fort Edward, NY 12828.