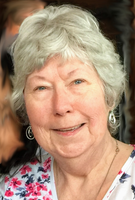 Maryann Fellows
Maryann Fellows
Wells, Vermont – Maryann Fellows passed away in Massachusetts at home with her family on October 11, 2018.
Maryann was born on August 6, 1941 in Granville, NY the daughter of John W. and Mary Ann (Parry) Closs.
She graduated from Granville High School in 1958 and Albany Business College in 1960. She worked as a legal secretary in Albany following graduation. She married the love of her life, John F. "Skip" Fellows Jr. on February 16, 1963, after a short courtship. Skip and Maryann had three daughters. She became an active member of the community including the Wells Methodist Church, Modern Woodman of America and Girl scouts. When her girls were grown she was employed at St. Gobain Performance Plastics for 24 years, she retired from there as a customer service representative in 2002.
Maryann joined the Order of the Eastern Star in 1967, as a member of the Mt. Carmel Chapter. She was currently an active member of Evening Flower Chapter, No. 94/ Adoniram Chapter No.22 and Evergreen Chapter No. 63/Fair Haven Chapter No. 70. She held multiple offices at the local and state level. She served as a District Deputy Grand Matron in District No. 1 for two terms and Past President of the Green Mountain Deputies Association. She was a member and past president of the Charlotte Morris Past Matrons and Past Patrons Association.
She became active with the Order of Rainbow for Girls and was Mother Advisor of Poultney Assembly #16 and served as a member of the local and state advisory board for over 15 years. She enjoyed her grandchildren and spending time with family. She also enjoyed contributing to basket parties, tea cup auctions other community events in the Wells area.
Maryann was predeceased by her parents, her siblings Evelyn Closs, Winifred M. Closs, and Robert E. Closs and her beloved husband John (Skip) F. Fellows, Jr. Left to miss her are her daughters Beth Perez (Douglas R.), Becky Lichens (Bob) and Patti Dinelli (David). She was blessed with six grandchildren: Hannah and Gabby Perez of Riverside, California, John and Evan Lichens of Boulder, CO, and Ben and Ally Dinelli of Billerica, MA, as well as several nieces and nephews.
A funeral service will be held on Thursday, October 18, 2018 at 1 PM at the Robert M King Funeral Home, 23 Church St. in Granville, NY of which an Eastern Star Service will be a part. Friends may call on Wednesday, October 17, 2018 from 5-8 PM at the funeral home. In lieu of flowers, donations may be made to the Benevolence Fund, Eastern Star Home Board Inc., c/o Deborah F. Litchfield, Secretary Board of Trustees, P.O. Box 1113, West Townsend, VT 0535