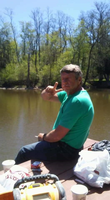 Patrick Henry Stevens
Patrick Henry Stevens
Argyle, NY – Patrick Henry Stevens, age 56, passed away on March 12,2019.
Patrick was born on December 27, 1962 in Glens Falls, New York the son of the late Harry and Janice (Crouch) Stevens.
Patrick was a hardworking man who chose to live a simple life. He was a master carpenter and worked at his trade all his life. He loved his children and grandchildren beyond measure. He was most happy around a campfire with family and friends, listening to his old-time country music…coffee in hand.
He was predeceased by his parents and a sister Diana Green. Survivors are his six children: Jeremy Stevens (Tara) of Hudson Falls, Patrick Stevens of Hudson Falls, Justin Stevens (Shannon) of Queensbury, Alex Stevens (Angela) of Greenwich, Emily Stevens of Greenwich and Chloe Stevens of Greenwich. He was blessed with six grandchildren: Dylan, Alexis, Haileigh, Brinley, Cami and Kiana. Also surviving are his siblings: Kenny and David of Hudson Falls, and Teresa Cary of South Glens Falls, and Debbie Riley (Jeff) of Argyle.
A funeral service will be held on Friday, March 15, 2019 at 6 PM at the Robert M King Funeral Home, 23 Church St., Granville, NY. Friends may call from 4-6 PM.
In lieu of flowers, the family suggests donations be made to the American Foundation for Suicide Prevention, 120 Wall Street, 29th Floor, New York NY 10005.