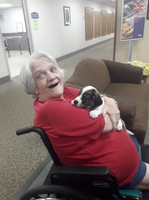 Brenda Burch
Brenda M. Burch
Granville, NY – Brenda Mae Burch, age 61, passed away surrounded by her loving family at the Granville Center on September 25, 2019 following a long illness.
She was born on August 26, 1958 in Glens Falls, NY the daughter of the late George and Leona (Carleton) Scoville.
Brenda, affectionately known as "Possum" loved playing Bingo and Dice games with her family and friends. She was an avid Elvis Presley fan and of Judge Judy.
Possum was a resident at the Granville Center for two years. She loved teasing the nurses and brought many laughs for them and her fellow residence during her time there.
She was a member of New Creation Church.
Possum was predeceased by her parents and a brother George Scoville Jr. She is survived by her loving husband of 23 years, Gary Burch. She will be missed by her daughters Destiny and Katie Burch. She also leaves behind her siblings: Jeremey Scoville of Hadley, NY and Veronica Smith of Tennessee. She was blessed with a step grandchild Ryder and several cousins, nieces and nephews.
A memorial service will be held on Monday, September 30, 2019 at 4 PM at the New Creation Church in Granville with the Pastor Joel Aubrey presiding. A celebration of her life will continue following the service.
Arrangements are under the direction of the Robert M King Funeral Home, Granville, NY.