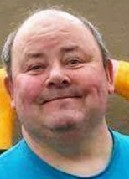 In Memory of
Wilbur S. Forrest
1962 - 2017
Obituary of Wilbur Forrest
Wilbur S. Forrest
Middle Granville, NY – Wilbur S. Forrest, age 55, passed away unexpectedly at his home on December 12, 2017.
Wilbur was born a twin on December 4, 1962 in Fair Haven, Vt the son of the late Richard and Beulah (Phillips) Forrest.
Wilbur enjoyed spending time with all his family, walking, going to the Great Escape, yard work and trips to Walmart. He also loved spending time with his adoptive Dad, Kent Sheeler. He loved to watch American Pickers, Storage Wars and the Three Stooges.
Wilbur was predeceased by his parents and a brother Edward Forrest. He is survived by his twin brother William (Mary) of Hartford, Henry (Mary) of Granville, and his baby sister Mary (Dave) Ritchie of Comstock. He is also survived by his adoptive parents Kent Sheeler (Barb) of Middle Granville and adoptive sister Holly Sheeler Richards (Edward) of Glenmont, NY. He was blessed with many nieces and nephews; Judy Raymond (Jay) of VT, Chrissy Forrest of MD, Jennifer Cook (Chris) of NY, Amanda Bates (Adam) of VT, Jeffrey Winchell (Jenn) of NY, Henry Forrest Jr (Erica) of NY, Brittany Forrest (Lenn) of NY, Cheryl Howarth (Caleb) of NY, adoptive nephew William Richards and adoptive niece Abigail Richard of NY and many great nieces and nephews.
A funeral service will be held on Saturday, December 16, 2017 at 4 PM at the Robert M King Funeral Home, 23 Church St., Granville, NY with the Rev. Jerry McKinney officiating. Friends may call from 2 PM until the time of the service.
About Us

We are honored and proud to be serving Granville, NY and all of our surrounding communities. We are available by phone or e-mail, or drop by the office in person. We are always here to help.

Our Location:

Robert M King Funeral Home
23 Church Street
Granville, NY 12832
Phone (518) 642-1122
Fax (518) 642-2322